The 7th World Military Games is approaching, and Wuhan will present a wonderful event. 更好 迎接军运会的到来,展示武汉城市风貌,由汉阳市政四公司承建,坐落于武汉市中心的武汉市轨道交通 2号线一期工程中山公园站预留出入口项目, 进行了施工围挡提档升级,扮靓武汉城市风采,为军运会保驾护航。 In order to better meet the arrival of the Military Games and show the urban scene of Wuhan, it was constructed by Hanyang Municipal No. 4 Company and located in the center of Wuhan Rail Transit Line 2 Phase I project of Zhongshan Park Station. Upgrade and upgrade files, dress up Wuhan style, protect the military games.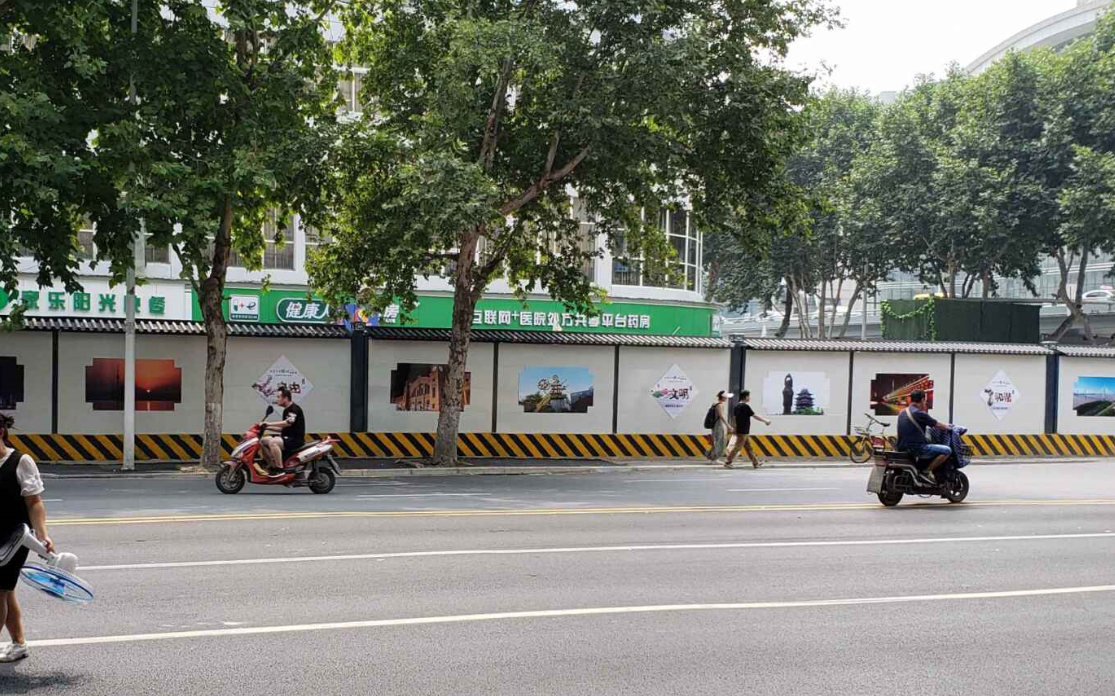 Zhongshan Park Station is a station with a parking line behind one station of Wuhan Metro Line 2. It is an underground double-column three-span island-type station. The north side of the site is Zhongshan Park. The east side of Zhongshan Park is the Union Hospital of Tongji Medical University; the west side is Hubei Wuhan Satellite TV Communication Center; the south side is the commercial buildings such as Jiefang Avenue Aviation Bridge and Wuhan Convention and Exhibition Center. 钢 建构、底盒安装、灯饰与广告字等,还需要结合周边环境采用园林式围挡,不仅要保障工程工作的顺利进行,还要突出亮点,耳目一新,展现武汉应有的风貌。 It may seem easy to raise the installation site enclosure, but it is actually complicated. The enclosure steps are mainly divided into measurement size, production effect drawing, steel construction, bottom box installation, lighting and advertising characters, etc. It is also necessary to use garden enclosures in conjunction with the surrounding environment. In order to ensure the smooth progress of the project work, highlights must be made, refreshing, and showing what Wuhan should look like.
项目部 每日至少 组织 8名工人施工,历时15日 完工 , 总 耗资约 40万元。 The upgrading of the construction enclosures uses A2 standard enclosures of municipal engineering , with an area of about 2500 square meters. The project department will organize at least 8 workers daily for construction, which will take 15 days to complete and will cost about 400,000 yuan. 方案紧贴中山公园景观设计,与周围环境交相呼应,完美融合,风格简约大气,宣传标语靓丽夺目,整体提升效果明显 ,收获了附近市民的一致好评 。 The overall upgrade plan closely follows the landscape design of Zhongshan Park and echoes the surrounding environment. It is perfectly integrated, with a simple and elegant style, and the publicity slogans are beautiful and eye-catching. The overall promotion effect is obvious , and it has received unanimous praise from the citizens nearby . Today, the military games are approaching, and the construction enclosures upgraded and upgraded will show greater charm on the road to the military games.
A good city appearance is an important part of showing the urban style to the world. Construction site enclosures are important auxiliary facilities for urban construction projects, and their changes in standards and quality reflect the evolution of urban development concepts. 建设的一员,汉阳市政 四公司一直秉持建设武汉、造福武汉的理念,将一如既往建设、展现武汉靓丽的一面,为军运会圆满举行加油助力! As a member of Wuhan Urban Construction, Hanyang Municipal No. 4 Company has always adhered to the concept of building Wuhan for the benefit of Wuhan, and will continue to build and show the beautiful side of Wuhan, helping fuel the successful holding of the Military Games!