Ingenuity builds dreams and realizes dreams.
月27日上午9:00时,经过一个月的精心准备之后,鄂旅投黄梅非遗文化旅游区推介暨东山小镇(又名菩提小镇)项目观摩活动在黄梅菩提小镇项目现场拉开帷幕,该项目由汉阳市政博宏公司负责施工,汉阳市政集团董事长严悌文、副总经理钱涛应主办方邀请参与本次活动。
At 9:00 am on
September
27th, after a month of careful preparations, the promotion of the Emeitou Huangmei non-heritage cultural tourism area and the Dongshan Township (also known as Bodhi Township) project observation activity were held at the Huangmei Bodhi Township project site. At the beginning of the project, Hanyang Municipal Bohong Company was responsible for the construction of the project. Yan Yangwen, chairman of Hanyang Municipal Group and Qian Tao, deputy general manager, were invited to participate in the event at the invitation of the organizer.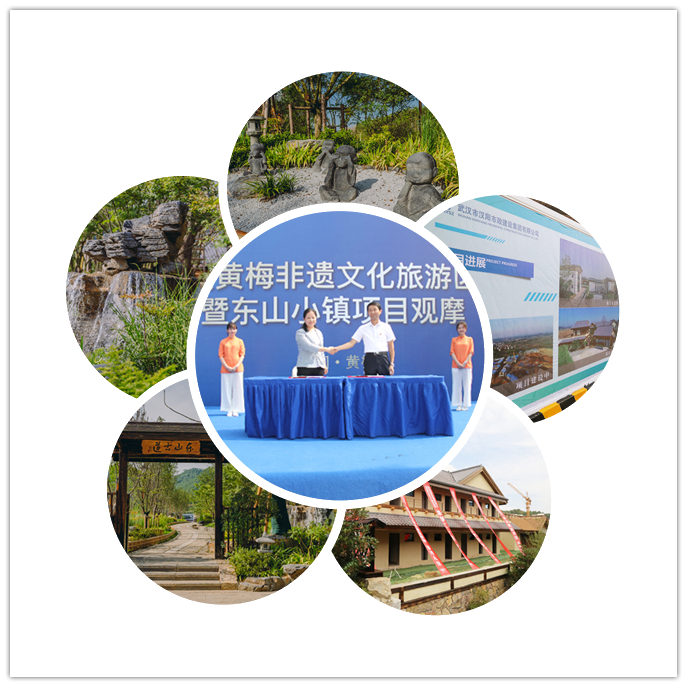 This event aims to promote the tourist attractions of Huangmei Bodhi Town, and promote the construction and operation of the project internally, including Huangmei Opera, Yuejiaquan on-site demonstration, the opening ceremony of the model district of Dongshan Town, on-site observation of the project, and construction and operation of cultural tourism towns. Promotion sessions and other links.
During the event, Yan Yangwen, the chairman of Hanyang Municipal Government, and Qian Tao, the deputy general manager, held cordial talks with the relevant leaders of E-Travel Investment Huangmei Branch, and accompanied Liu Jun-gang, the chairman of E-Travel Investment, to observe the scene. The district's design and construction and future project operation planning were thoroughly understood, and the overall layout and construction of the project were fully affirmed. 以此促进菩提小镇项目顺利推进,为往后文旅小镇项目建设提供遵循,升华与鄂旅投集团公司的战略合作关系。 At the construction and operation promotion meeting of Wenlu Town, Qian Tao, the deputy general manager of Hanyang Municipal Government, took the lead to speak as the representative of the contractor, and thanked the leaders and colleagues who visited the project site, and took the opportunity to discuss the progress of the project construction process, Some practices in quality, safety, design and other aspects were exchanged and discussed with everyone, so as to promote the smooth progress of the Bodhi Town project and provide follow-up for the construction of cultural tourism town projects in the future. The strategic partnership between Sublimation and E Travel Investment Group .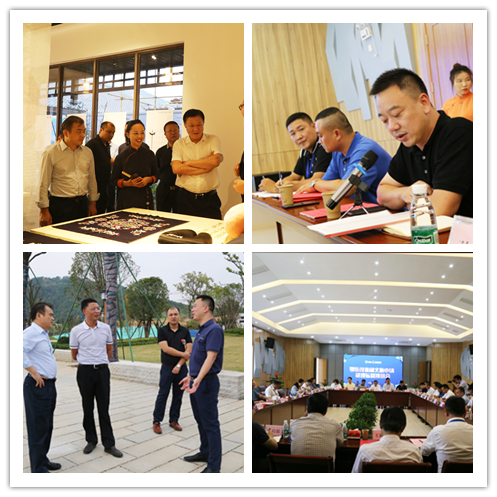 This promotion and observation activity is not only a demonstration of the results of the project construction, but also a rare opportunity for learning and exchanges. Hanyang Municipal Bohong Company will take this exchange as an opportunity to work hard and cleverly achieve the expected goals of the project construction. Go all out to break through the difficulties, explore the way to find a way, collide the tight schedule with passion, combine rigorous quality and culture, and ensure the completion of high-quality projects.
。 It is reported that, with the joint efforts of the project team, the Huangmei Bodhi Town Project currently has 43 single building structures capped and 35 buildings completed with masonry and plastering . The model area and logistics service center passed the acceptance in early September .